A casual social gathering for coffee and conversation.
I'm trying something new again and I hope you will join me! I have been thinking about this for a few months and have decided it's worth a try.
I know many of us participate in memes. For me, it is an easy way to post something and to get to know other bloggers. I hope this "want to be" meme will become more.
To have a community of bloggers that are friends that can come together once a week with ideas and support for one another. We all blog for different reasons. For some, it is to be heard, for some it is to share, and for some it may be acknowledgement. After all, many blogs are just your thoughts, feelings, and experiences ... that you share ... and here it is easier.
Each Sunday night I will post a couple of "get to know you" questions. After all, we look forward to having coffee with our best friends more than anyone else.
I will also post a subject for that week. Which could take any form. It could be a recipe, a craft, a tradition, a photograph ( I am a photographer), or just your thoughts on a subject. The reason to post on Sunday. I want to give you time to think about what you want to share. Many times I want to post on a meme and don't really have the time to say what I want ... the result... I don't post.
The first Coffee Klatch Friday will meet on Friday, Oct. 7th.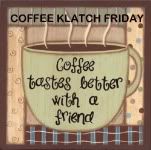 Remember to add the button from the sidebar to link up.