Welcome to the 36th edition of
"Meet Me On Monday!"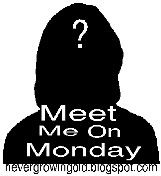 ~ Today's 5 questions ~
1. What are you wearing right now?
Men's pajama bottoms and an over sized T-shirt.
I like to be comfortable.

2. Do you have any freckles?
NOPE! I have no spotted genes (freckles).
Did you know both your parents need to have this gene in order for you to have freckles.

3. What is your favorite Lifesaver flavor?
I like the pineapple.
4. What is the last movie you saw in the theater?
Morning Glory
5. Would you rather live without tv or without music?
1/4-1/3 of my work day is spent traveling.
If I watch TV, it may be an hour or two a couple days a week.
Thanks Java for hosting this meme!