Here I go again ...
When you get a new follower, do you really check them out and become their follower? I try to. I know there are people out there who don't. How sad for them! They are really missing out. I believe that each person who touches your life, somehow enriches it.
Anyway, down to business ...
I have a new follower, Chrissy @ Roses, Rhubarb, and Pearls. I saw that she was linking up to a party called
"Meet Me on Monday". So today, again, I am joining a new linkie party. I am excited to see who I might meet there.
What is Meet Me on Monday ... in a nut shell ..
Every Sunday Never Growing Old will post five get to know you questions that you can copy and paste into your own Monday post and we can all learn a little more about each and every one of us!!
Today's 5 questions are:
1. Did you get any Valentine's Gifts?
A red tea rose plant to go in my garden. A bag of Robin Eggs Easter candy. (My favorite.)

2. What is your favorite topping on something toasted?
Honey and walnut flavored cream cheese.

3. Do you pick out your outfit the night before?
No, unless it is some special event that I am attending the next day.

4. What food item do you absolutely despise?
Calamari

5. Righty or lefty?
Right handed.
Hopefully, next week my answers will be more intriguing ... LOL
To join in the fun ... check out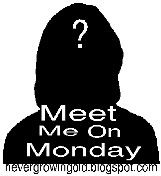 Thanks Java for hosting a fun meme!