Good Morning!
Yes, it's another Saturday morning. Late last night I found another meme I'd like to try.
You can find it @ My Little Life blog on Fridays.
Five Question Friday~
Rules for Five Question Friday
: Copy and paste the following questions to your blog post, answer them, then watch for the
linky
post to appear Friday morning! And most of all, HAVE FUN!!
1.
Can you drive a stick shift?
YES. My husband taught me when we were first married. We have always had a vehicle that is stick (usually what he drives). When I was pregnant with my son, I carried him so low my 3rd trimester that I drove my husband's pickup. I was easier to step up and stretch out than sit down and be smooshed.
2.
What are two foods you just can't eat?
3.
Do you buy Girl Scout Cookies? What is your favorite kind?
Yes. We live is a small community. Our neighbors have 2 little girls that split what is ordered. I usually order 8 boxes (they know a sucker when they see one) of the Peanut butter Sandwich cookies.
4.
How do you pamper yourself?
On occasion, every month or so I will get a pedicure. When I work, I am on my feet 6-12 hours a day, depending on the season. I enjoy sitting in the massage chair just as much as I enjoy the pedicure.
Also, when I've had a really LONG week at work, I spend Saturday in my PJ's watching movies all day long. :)
5.
What is your nickname and how did you get it?
Only 2 people call me by a nickname, which is really only my first name and middle name together, Vicki Jean. My Mother's brothers.
Today I am linking this to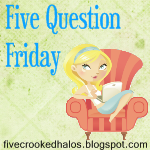 AND