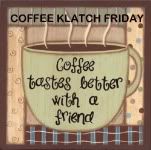 WOW!!! Is it Thursday already? I trust you enjoyed your Thanksgiving Holiday. Mine was busy. Son came into town for a few days. We celebrated "Baby Girl's" birthday ( the 25th). Just a lot of enjoying one another in a short amount of time.
I want to let you know that I really appreciate the women who have posted on this meme. I have enjoyed learning about you and I am grateful that you care enough to share yourself with me and whoever else that stops by to read.
As we head into the Christmas Season (no political correctness here), I hope you will share a little of your family life. For the next five weeks ... YES 5 ... I am asking you to share some of the TRADITIONS that your family partakes in. That would be 1 tradition a week. Now ... don't let the word "TRADITION" get you in an uproar. It doesn't have to be anything Spectacular, just something you and\or your family does at this time of year. It may be something you are starting this year or something you have done for many years. It can be something HUGE! It can be something
small
. And please ... visit the other Bloggers who post and leave a comment.
Subject ~
Did you go "Black Friday" shopping? If so, Did you get any great deals? If not, How did you spend "Black Friday"?