WOW!! Can you believe it??! It's the 5th Coffee Klatch Friday!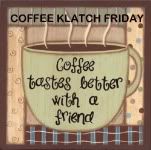 Come on in! Sit! Have a hot cup of something ... coffee, tea, hot chocolate, apple cider ... You are with friends!
Today we are chatting about our "Bucket List's".
I'm sure you've seen the movie. A dying man decides he wants to do all these crazy, dangerous thing because he has found out that he doesn't have much longer to live,
Hmmmmm.... I'm not sure my list is really crazy, or for that fact dangerous. AND ... let me say that many of the things that I have done weren't even on my list. BUT ... I have been blessed to be able to do them and are grateful for the experiences.
1. I have always wanted to take a "stained glass" class.
I would love to make something like this to hang in my window.
2. I would like to raise chickens and have farm fresh eggs.
3. I would like to go to the Hot Air Balloon Festival in

Albuquerque, New Mexico.
I have been to the outer Islands of the Bahamas and plan to go back.
The Cruise would take me to "The Atlantis Waterpark" which is my true destination.
Taking the cruise is cheaper than taking a vacation to Atlantis.
I have tried, but it just never turns out right.
Over the years my favorite candy has changed ... a little.
When I was a child, my favorite candy bar was a MARS BAR.
Until recently ... when I found them at a popular retail store... I had not given them much though because it has been some time since I have seen them.
When I was in High School, everyday of my Sophomore I ate a bag of M&M's
I also liked "Bit O Honey" candy which is kinda like a toffee.
Now ... I don't eat candy a lot. BUT if I do have a candy bar it is a SNICKERS.
or
I also enjoy an M&M Blizzard on occasion
.
Looking forward to seeing your lists!
Thanks for stopping by!
Have a GREAT week!