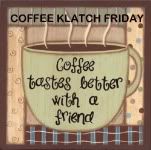 Getting by with a little help from my friend's.
Today is the 6th Coffee Klatch Friday!
And today ... the format is going to be a little different.
Today I am asking my friend's for their opinions.
If you have been reading my blog you know that I took a job, somewhat different than what I was doing, but in the same company. This is a seasonal job. It in no way affects my previous job. My previous job is still there... just slowing down and soon will be laying off people. I have to admit, that was one on the reasons I enjoy this job. A little down time over the Holidays.
Back to my new job ... I am thinking about quitting it. There are several reasons.
First, we have to SELL the product. People come in to buy items and that's ok, but we are required to show them 8 other products and try to get them to buy them. I don't like people pushing me and I don't like feeling that I am pushy to someone else.
Second, we had our 1st (if you could call it that) winter storm yesterday. I worked for the previous job and it took me almost 30 minutes to get to my school. Traffic was terrible, weather was terrible ... it was not a fun time at all. I figured out that if I had gone to the "new" job, I would have been at least 45 minutes late. If there are only 2 of you working ... this can cause a great havoc ... for you and the customers. The job is already 50 minutes away and it is not too bad when it is daylight, but if we were to get a storm while I was at work ... taking 2 hours to get home in the dark would not be fun.
Third, we are on a "come in as needed" scheduled. Meaning, I am scheduled for certain days. I must call in the night before to see if I am needed (is there enough going on) to be there the next day. So far, the 2 days I was scheduled I was not needed.
I have never quit anything! And even though I want to quit ... I have mixed feelings about doing so.
HELP ME!!! I just need so reassurance that I am making the right choice.
SUBJECT
This week there is no subject. HOWEVER, starting on Friday, Nov.11, please take a daily photo of something you are thankful for. At the next Coffee Klatch Friday you should have 7 photos to share!
Have a great week!
~VICKI~