Happy 1st. Friday of 2012!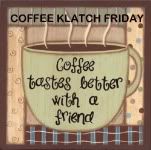 Grab your cup and get a comfy seat! Did you get a good night's sleep? Me? No, too many things were running through my head.
First, I want to thank those who left comments about this meme. I guess we will just have to wait and see what the days ahead bring. At least for now, we'll march ahead ... hoping more will join in.
Today is just a little impromptu post. I wanted to do something different, but that didn't pan out. Oh well, there's plenty of time ahead. Today there are just a couple quick questions.
1. What was 1 of the

memorable events in your life last year?
2. What do you look forward to regarding your blog for this year?
I'm going to post this now so you can get started.
Look for my post later today.