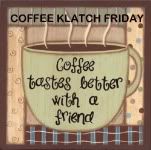 WELCOME!
Come ... sit. The coffee is ready and I baked some cookies to share . This recipe is my Mom's recipe for Chocolate Chip Cookies. I substituted M&M's for the chocolate chips.
These cookies are just perfect for dunking! They are crispy and crunchy, not soft and chewy. So. if you want a glass of milk instead ... I totally understand.
This week for Coffee Klatch Friday I have chosen to have a discussion. This came about after reading several blogs. Now I know that we cannot have a real discussion, but I hope you will share your insight on the subject.
THE SUBJECT:
How do you take care of yourself? What do you do to re-energize yourself, to be the best you can be for your family and friends? What do you do for your "me time"?
You know, as mother's, wives, best friend's, and big sister's, we feel that we need to make everything okay for everyone in our lives. But worrying and stressing over what other people should do or what we need to do to help them is not good for us. We need to step back and take time for ourselves.
How do I do that?
Mostly in little ways.
When I work long hours, I come home, have a lite dinner, take a hot bath, and go to bed early. I don't do the dishes or worry about laundry. They will still be there. (When my children were in Jr. High and High School they were required to fix dinner once a week, including clean up. On Saturday morning they would decide what they wanted to make and on what day they would make it. When I went grocery shopping whatever was needed was bought. At first it was more of a hassle than a help, but it taught then several things ( how to follow a recipe, planning out meals, using your time wisely) and eventually freed up some time for me.) I have come to realize that dinner doesn't have to be a huge production. It's ok to have soup and a grilled cheese sandwich or French Toast for dinner. A large salad and baked potato is a great meal, quick, easy, and not heavy. I have also come to realize that most things don't need to be done "right now".
Yes, we do need to keep things neat and tidy, but not to the point that it stresses us out.
My "me time" also involves , at least once a month, going to Antique shops. I'm not necessarily going to buy something, but just to look. It is time that I spend by myself, enjoying something, without someone trying to get my attention. I think it's important to get away from your normal routine, to be away from things that can barge in and steal away the time I have chosen for me. I think the most important thing is, the time does not have to be long, but you do need to make "the time", to do something you enjoy.
So, how do you spend time on yourself? What are some of the things that you have come to realize you need to do to keep your life less stressful? Many people will say they don't have stress. Day to day life is stress ... it's how you handle it.

Looking forward to what you have to share.
Please remember to LINK up!
~Vicki~