I was so excited to see this event! Kim at The Twice Remembered Cottage is hosting it. This is the first time I am joining in on this event and I hope you will consider joining in too!
This is a multi-blog, month long event beginning Saturday, May 1st where bloggers give away on their blogs items they feel exhibit "Cottage Charm".
Anyone can join at any point in May before the 29th. On May 29th, all participating bloggers will announce their winners and post it to their blogs.
There are 4 easy steps to follow. To get all the deatils, click on the Giveaway Badge below.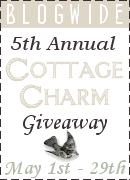 I love the Cottage look! I love the freshness of it! I love the details of it!
Roses, pastel colors, ruffles, lace all add to the charm of the Cottage look.
Yes, there is a wide interpertation of what "Cottage Charm" is, but I think the
best way to sum it up is... Cottage Charm = warmth, coziness, personality.
Here is what I am giving away~
10 inch round Quiche Plate
15 inch tall bear
9X9 inch
Ribbon Embroidered Pillow
Magnets & Note Cards
1.2in X 2.5 in opening,
Small While Rose Photo Frame
RULES~
You Must leave a comment on this page of my blog.
(1 entry)
If you are a follower, make sure you let me know
(2nd entry)
You don't need to have a blog to enter. If you do not, please make sure you leave an e-mail address where I can contact you, in case you are the winner.
Make sure to check out
The Twice Remembered Cottage blog page.