Are you ready?? Have you spread the news to your friend's? I sure hope so!
WELCOME to the 1st COFFEE KLATCH FRIDAY!
To have a community of bloggers that are friends, that can come together once a week with ideas and support for one another. We all blog for different reasons. For some, it is to be heard, for some it is to share, and for some it may be acknowledgement. After all, many blogs are just your thoughts, feelings, and experiences ... that you share ... and here it is easier.
Each Sunday night I will post a couple of "get to know you" questions. After all, we look forward to having coffee with our best friends more than anyone else.
I will also post a subject for that week, which could take any form. It could be a recipe, a craft, a tradition, a photograph ( I am a photographer), or just your thoughts on a subject. The reason to post on Sunday. I want to give you time to think about what you want to share. Many times I want to post on a meme and don't really have the time to say what I want ... the result... I don't post.
(The first is not really a question, but a request)
Please tells us a little about your self ~ where you live, about your family, about your job, what you enjoying doing ... share what your best friend might know about you.
1

.
What is one thing you enjoy about where you live?
2. What is one thing that you don't enjoy about where you live?
This week's subject:
Please share a recipe that you would bring to a COFFEE KLATCH at a friend's house.
Please remember to grab the COFFEE KLATCH FRIDAY button!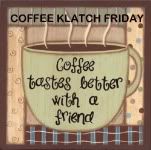 Looking forward to your post on Friday!