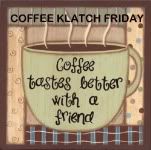 Happy Tuesday all my Coffee Friends! Sorry I'm a couple of days late.
Here's what's up for this week.
Please list 10 things you have done.
The subject this week will be a recipe.
Anything FALLish, ie something you like to fix when cooler weather takes over the short, Fall days.
It can be anything!
Looking forward to hearing from you!
~Vicki~