I'm sorry that this post is a few days late, working long hours, still having a head cold and having a computer on the blink have all played their part in this post.

Tomorrow is Thursday and here is what will be on the agenda :

Getting to know you :

What did you want to be when you grew up? Are you that now? What is 1 thing you LOVE about what you do , or who you are?

This week's subject :

It is Autumn (at least in the U.S). The weather is changing rapidly in several parts of the country. Please share a photo or 2 of what your area of the world looks like.

Please remember to add the Coffee Klatch Friday button to your post and keep encouraging other's to join.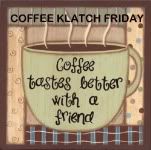 Have a great week!
~Vicki~